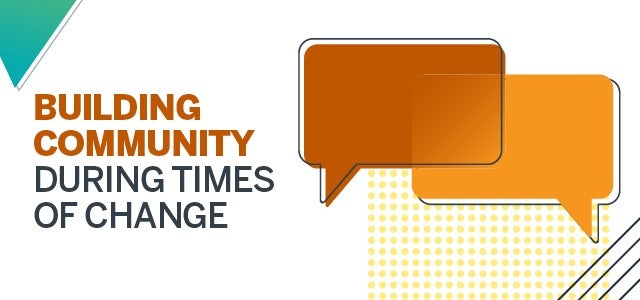 The stressful events of 2020 and 2021 have undoubtedly taken a toll on our well-being. The drag of the "pandemic effect" prolonged isolation, unstable labor market, mass protests for racial justice, and the great resignation, to name a few, have led to high rates of burnout, anxiety and depression. While we have all experienced these disrupters at the same time, we didn't all experience it in the same way. With that, the level of support needed varies. We hope that this is the first of many conversations that begin to normalize mental health, making it part of our day-to-day discussions. We are currently planning future gatherings and will post updates as we have them.  
September: Be our guest as we Celebrate and Appreciate Together with musical feature the Texas Eastside Kings and enjoy music, food, games, and good company on Friday, September 23 at 11:30 am. in the William C. Powers Student Activity Center Ballroom!  We hope you will join us for this celebration and opportunity to get to meet each other in person. 
October: Join Dr. Madia W. Cooper for Moving Bodies, Walking Archives, a movement-based exploration that delves into understanding how our bodies embrace and embody external actions that lead us to be change makers and legacy carriers. It's recommended that participants wear comfortable clothes, have a chair, and have space to move around the chair. 
November: Join Michelle Rameriz, Education Coordinator at the Gender & Sexuality Center for Affirming LGBTQIA+ Colleagues & Community on Friday, November 11 from 11:30 am-1 pm. Michelle will help us work through a series of strategies for creating gender and sexuality affirming offices and conversations. This is a workshop for LGBQTIA+ people and straight people, transgender people, non-binary people, cisgender people, and people of more than one of these identities. 
January: Many of us view January as a chance to hit the reset button on life. Rather than succumbing to the pressure of New Year's resolutions, let's make January – and the whole of 2023 – a chance to celebrate everything that's already good in our lives. Join Nossè, Wellness Manager, in a virtual journaling and reflection exercise as part of the Building Community During Times of Change Series. " It's recommended that participants come prepared with paper and pen. 
February: Join Emil Kresl, Director of Learning & Development at UT Austin Human Resources, for Bringing the One-Room Schoolhouse to the Workplace: Building Community Through Learning will describe an approach to learning in which people from diverse backgrounds and varying levels of education and work experience can enrich the learning experience while building connection. Participants will engage in small group breakout sessions to discuss the challenges of learning in the workplace and what a learning community means to them. 
April: Join us on Friday April 21st for Building a Strong Professional Network. Professional networking is a crucial aspect of career development, but it can be difficult for some people to effectively build their network and overcome the network gap. This discussion, led by Cody Horton, the founder and Managing Director for Diverse Recruiting Experts, is designed to help participants develop their networking skills and build a strong professional network. Participants will learn the importance of professional networking and how to overcome the network gap, build a diverse network, and develop their personal brand and communicate their value proposition. You can read Cody Horton's biography here. 
May: Join us on Friday May 12th for Career Zen: Letting Go of the Past, Inviting in the New. Everyone has talents that the world needs, but sometimes we feel stuck and uninspired. Creating a path toward your career fulfillment can lead to global impact and progress. Dr. Lynn Chang will guide us through several techniques and exercises that can lead to greater career fulfillment, professional development, and purpose, including a fire ceremony demonstration based on Q'ero shamanic lineage traditions. Dr. Chang worked 12 years in the UT Career Exploration Center and Vick Center, founded Career Zen, and is the author of The 10-Day Career Cleanse. Each attendee will receive an e- copy of her book. Sign up here.
Building Community Cookbook
Made in collaboration with Building Community participants starting in the summer of 2022, this cookbook represents the most comforting dishes of our UT community. You can view and download the PDF here.