Welcome to the Yoga for Anxiety video series from UT Austin's Employee Assistance Program (EAP).
Meet Your Yoga Instructors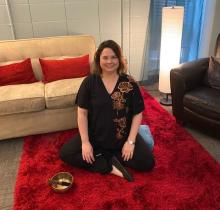 The series is led by Jamie Justus LCSW, a counselor at EAP and a yoga teacher who has facilitated the Yoga for Anxiety series for many years. When these series are offered at UT, they fill up in minutes and have a wait list of over 200 people. Now, the EAP is putting videos online that have components of Yoga for Anxiety, with physical sequences, breathing techniques, yogic philosophy, and meditation and mindfulness exercises. The videos will be listed in an order, but you can also skip around the video offerings.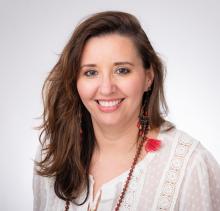 Linda is the founder and director of Sana Yoga, a nonprofit that serves the Latinx Community by making it inclusive and accessible throughout the City of Austin. Linda is an Ayurvedic Counselor certified by Narayana Ayurveda and Yoga Academy, and is the Founder of Elements of Ayurveda, a small Austin based business that focuses on promoting health through diet and a lifestyle through traditional Ayurvedic principles and practices for a modern lifestyle. She is a certified RYT-200 yoga instructor licensed by Yoga Alliance, Yin Yoga, Accessible Yoga, and a 600hr based Ayurveda Counselor Certification.
Linda es la fundadora y directora de Sana Yoga, una organización sin fines de lucro que ofrece Yoga inclusiva y accesible en la Comunidad Latinx en Austin. Linda es Consejera Ayurvédica certificada por Narayana Ayurveda and Yoga Academy, y es la fundadora de Elements of Ayurveda, una pequeña empresa con sede en Austin que se enfoca en promover la salud con un enfoque en la dieta y el estilo de vida a través de principios y prácticas ayurvédicas tradicionales para un estilo de vida moderno. Es instructora de yoga certificada RYT-200 con licencia de Yoga Alliance, Yin Yoga, Yoga accesible y una certificación de consejera de Ayurveda basada en 600 horas.
---
About the Practices
The practices are designed to be beginner-friendly, so you don't need any yoga experience to start the videos. That being said, it is always recommended to consult a physician before starting any new physical exercise practice, and these videos are not a substitute for physical or mental healthcare. If you do feel sharp pain at any point or are having distress around any of the breathing or meditation exercises, please stop and come out of what you are doing and return to a neutral seated position and a natural breath.
Part of yoga is learning to listen to the body's needs, so please keep that in mind as you practice. Thanks for joining in this series!
Meditation Videos