Published:
January 20, 2022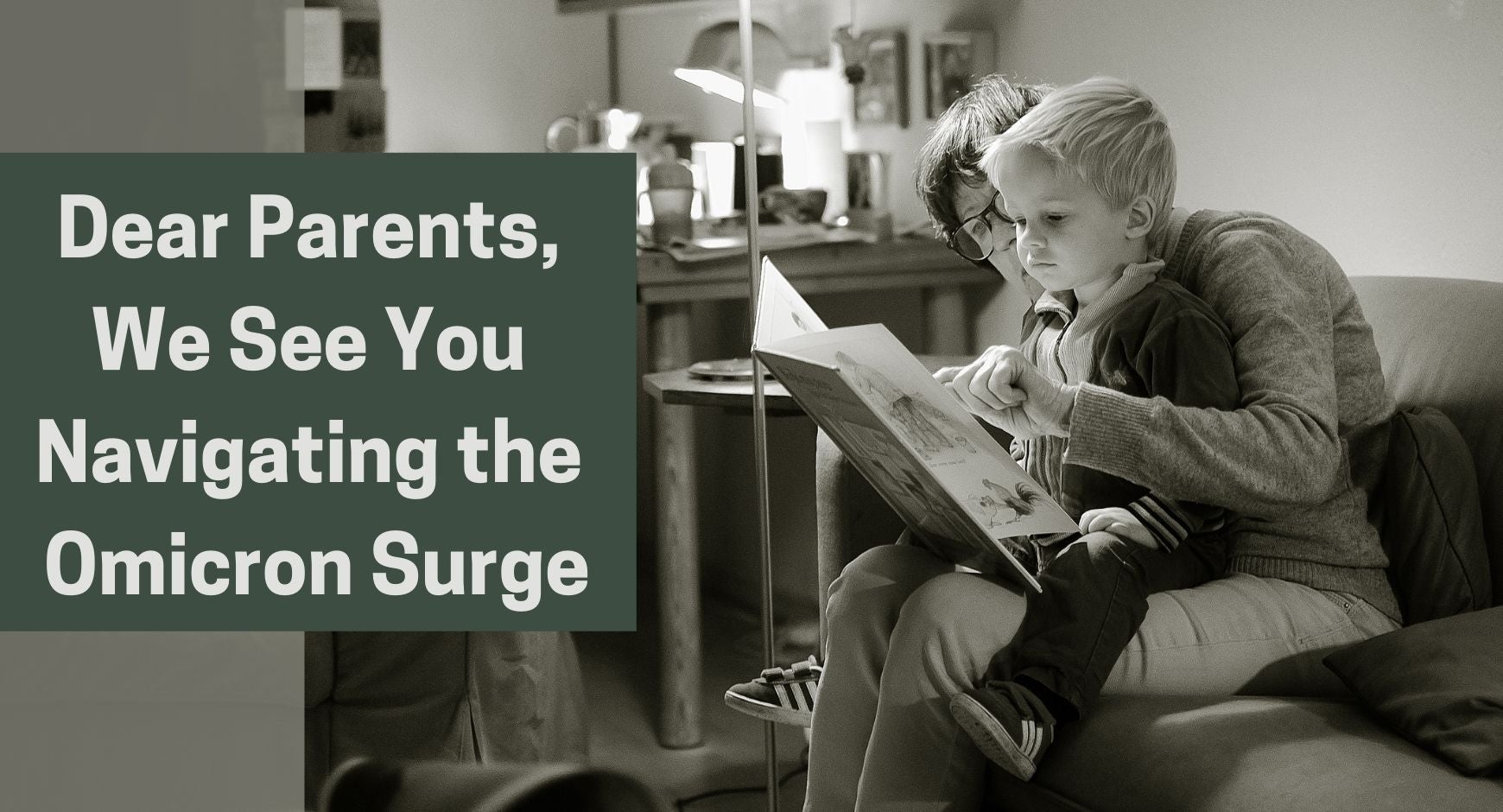 We are three weeks into 2022, and many parents are exhausted, trying to stay afloat in the midst of the Omicron surge. Parents are facing daunting and unclear choices amid rising case counts, the upheaval of school and daycare closures, a scarcity of tests when there's a cough or runny nose in the midst of cedar fever season, and the constant worry of potential exposure (especially for those who parent little ones under age 5). All of this is occurring while parents are trying to keep up with the needs of a new semester at work.  Parents are worn thin and in survival mode, as they try to conserve energy for themselves and their families.
In this landscape, as parents, please be as kind to yourself as you would a good friend or your children.
It's okay if you're not engaging and playing with your child every moment they're awake. It's okay if you use screen-time if it means you have a few minutes to breathe. It's okay if you go for a walk with your child and are on your phone or quiet instead of talking and naming things. Food pouches, cereal for dinner, and frozen meals are more than alright. It's even okay, if you decide to not be consistent with a boundary because you're exhausted.
An image that comes to mind for parents right now, is how do we put on our own oxygen masks first? What are the things that might allow us to have a bit of support before we give, support and care for those around us? A mentor of mine talks about 1-minute to 5-minute fill-ups. This isn't the time for elaborate self-care, but what are the small things that offer a sip of air.
Is it pausing to drink a full glass of water?
Is it putting your phone on Do Not Disturb?
Is it closing your eyes for 5 minutes?
Is it doing a breathing exercise? (The 4-7-8 breath is a favorite I keep in my back pocket)
Take a moment to focus on all the resilience that is being flexed as a parent—not to minimize the distress or invalidate the feelings (sadness, anger, frustration, feeling obliterated, abandoned, numb are all valid!)—but to emphasize the places of empowerment.
Pause here for a few minutes and jot down a list of what 1-minute to 5-minute fill-ups might look like for you.
In addition, see if any of the following suggestions would allow you to have even slightly greater ease around work:
Prioritize what is most important. Can you lay off requesting items that will start new projects? Can you ask for a deadline extension? What is truly urgent and what can be slowed down?
Consider setting up an "Out of office" message that names the reality we are still in fact working during a pandemic and juggling care and work is already hard enough in the best of times. It is okay to acknowledge your response time might be slower.
Explore with your supervisor about flexible work arrangements. Where might there be some give in your scheduled hours of work?
The Family Leave Pool is an option for if all of one's sick leave has been exhausted. More information about how to qualify and apply is available here: https://hr.utexas.edu/current/leave/family-leave-pool
The Staff Emergency Fund is a one-time financial assistance due to a temporary hardship. If you and/or your family have experienced a medical crisis or other type of unexpected challenge, consider applying.  https://hr.utexas.edu/current/services/staff-emergency-fund
From the relational neurosciences, we know that being heard, seen, and understood is a great support for our nervous systems. If it'd be helpful to have a soft place to land, the Employee Assistance Program provides free and confidential individual counseling. You can request an appointment by calling 512-471-3366 during business hours or emailing eap@austin.utexas.edu. If you need urgent telephone counseling, please call the 24/7 Staff and Faculty Telephone Counseling Line at 512-471-3399.